Supporting the Heroes of This Age
Kim Min-gyu from Cape Town, Rep. of South Africa
670 Views
"Heroes are born in turbulent times."
It is said that one who will save the world appears in times of confusion and difficulty. Admiral Yi Sun-shin in Joseon Dynasty of Korea defeated the enemy in the midst of an urgent crisis; and independence activists gave their lives to reclaim the country. Without a crisis, they would have lived as ordinary people. However, they sacrificed themselves for righteousness, and we call them heroes.
The world is now experiencing a turbulent situation it has never experienced before. No one can guarantee safety, and the way of life has changed drastically. Who are the heroes in this current situation of pandemic? They were not far away from us. In these days when everyone worries about his or her own health and safety, the medical staff struggle on the frontlines, risking the danger of being infected. Seeing them make every effort to save lives with a selfless mind, I wanted to comfort them even just a little bit. At the right time, the World Mission Society Church of God Young Adult Worker Volunteer Group [ASEZ WAO] carried out the "Heart to Heart" campaign to deliver care packages and handwritten letters to the COVID-19 response organizations.
We, the members of ASEZ WAO, inquired several organizations, and Tygerberg Hospital allowed us to visit them. The hospital, designated by the government as a COVID-19 response hospital, is the largest one in the Province of Western Cape, accommodating the largest number of patients. The hospital officials explained that there were 250 medical staff members who undertook tasks related to COVID-19. Surprisingly, more people than we'd thought were working there.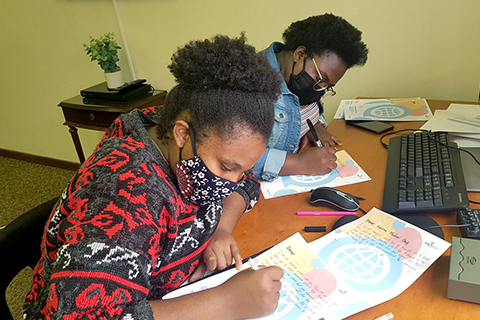 We prepared care packages with one mind, wholeheartedly writing letters and filming videos to support healthcare workers. On the day before the campaign, we finished all the preparations by packaging snacks one by one.
On the campaign day, we met a doctor, following the guidance of one official. He was the department head in charge of managing and supporting the medical staff responsible for combating COVID-19. We introduced ASEZ WAO and the "Heart to Heart" campaign to him, and delivered the care packages and handwritten letters to him.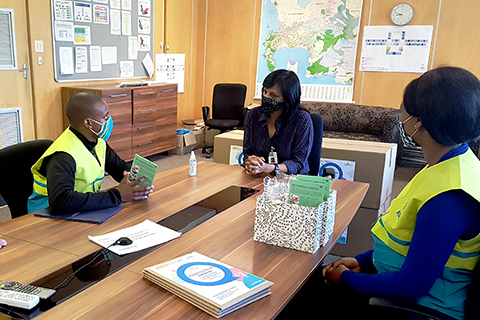 "Thank you so much for visiting us just in time when we, healthcare workers, should make every effort to combat the spread of the COVID-19 pandemic. We're certain that your consideration and care for our medical staff will give a new hope to us all."
The doctor who watched the film that contained a message of support took great delight. Saying he wanted to show it to all our healthcare workers, he took the film clip.
A few days later, we received a letter from the hospital officials saying that they were thankful for ASEZ WAO's concern and support. Through the campaign, we were able to deliver Mother's love to the hospital where everyone was struggling to save life. We really hope that our support will be of great help to the medical staff.