Song of Life Flowing to the World, Taking the Radio Frequency
New Song Radio Broadcasting Team from New York, U.S.
1594 Views
At 10 p.m. on Sunday is when people leave behind a joyous holiday and prepare for the next day. At this peaceful and starry night, the red light of On Air is on at the studio's screen, and the radio airs for three hours, lightening up the world and reviving souls. It is New Song Radio. Beautiful and magnificent melodies of New Songs and fragrances of Zion which arrived from all around the world flow through the radio frequency, and make us feel God Elohim's grace that spreads even to the opposite side of the globe.
New Song is the music of the saints who want to give glory and thanks to God Elohim for Their love and salvation. New Songs, which can be heard and sung anywhere anytime, enlighten us about God's love in the midst of busy and tough lives, and strengthen our weary souls.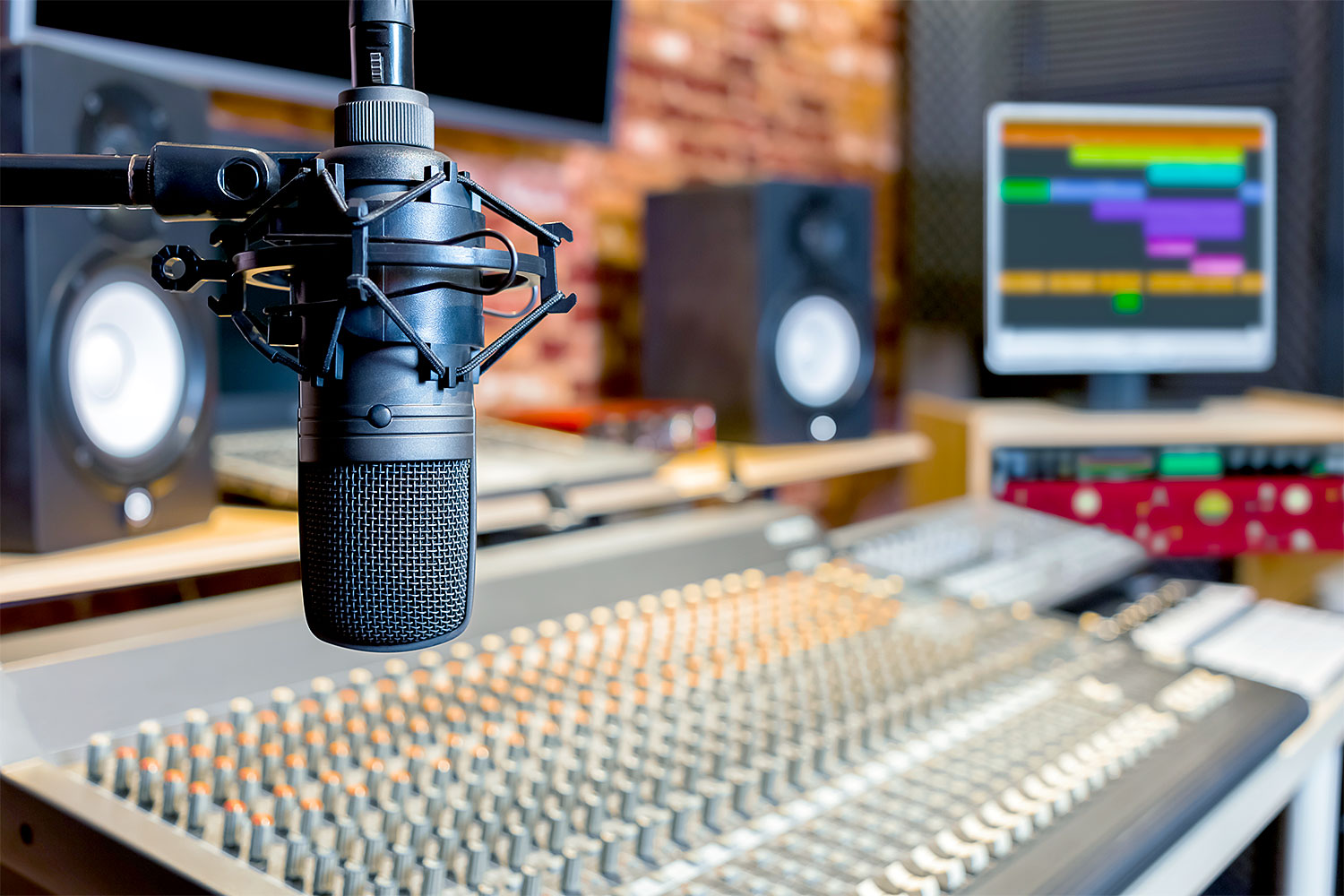 In November 2008, New Song Radio began in order to share love and realizations with people all around the world while listening to New Songs together, but its first step at a studio in a university located in New Jersey, the U.S., was humble. It wasn't a regular program but a temporary one, and there weren't many New Song audio files to broadcast. Most of all, we were not familiar with the radio broadcast as we were lacking in specialized knowledge and technologies which were necessary for the smooth show.
We still remember vividly when the radio first aired. We, who were on the air for the first broadcast of New Song Radio, and the members who were waiting to hear New Songs from radios were all very nervous. At the moment we first heard New Songs from the radio, we all screamed with excitement which we had never experienced before. New Songs praising God Elohim were being played through the radio! Numerous people could listen to the songs of souls at the same moment! We were all in awe and so filled with joy. Everyone listened with undivided attention until the end of the show. That was such a beautiful day.
As the number of listeners we had at New Song Radio grew constantly, an amazing thing happened in three months after the first air. A public access radio station governed by the Federal Communications Commission (FCC) decided to organize New Song Radio as a regular program. It offered us a three hour additional spot. Like this, New Song Radio replaced the old show, and thanks to God's help, New Song Radio received the overwhelming amount of attention. Now, many people in about 95 countries are listening to New Song Radio, and it has become the longest program in the radio station which it belongs to.
There are six Zion members who are participating in New Song Radio as volunteers. Three of us are hosting the show, and other three are a producer, a music assistant director, and a technician. Only one of us had experience in broadcasting before. In the past, we never imagined that we could help the gospel with this broadcasting area where extensive knowledge and advanced techniques were needed, and we were no specialists. If God chose experts in this field, none of us could stand in this position. God, however, entrusted this job to us who were lacking in many ways. It's not because God needed us, but entirely because God wanted to bless us.
Before every broadcast, we pray together to realize God's will and ask God's help. We select songs mainly from the requested ones, emails and letters that we receive from people all throughout the world, and some articles to read to listeners from the Elohist magazines. The main corner is "Inside New Song Music." It is when we read the lyrics of New Songs line by line and explain Biblical records about them.
All six staff members do different things. Although the level of importance may be somewhat different, every work matters. The real significance is our unity. Unless everybody makes sure to do his job faithfully, we might have problems. That's why we cannot neglect even a smallest thing. If a person insists on his own opinion, we cannot expect a good result. When we are completely united with love, respect, understanding, consideration, and yielding, we can please God and make the program more gracious for listeners. It is just like the gospel that bears good fruits when brothers and sisters become one in mind through the one Holy Spirit.
As everybody's well aware of this, we do our best in everything including answering emails and phone calls from listeners, and updating news on the New Song Radio website as well as hosting the program.
New Song Radio is only once a week, but the effort and preparation for one show is not little. When it ends around 1 a.m., we go home after arranging things, and as soon as we go to bed, we fall asleep. We need to get some sleep to go to work in the morning.
During week days, we are busy working at regular jobs and preaching the gospel. On the weekends, we prepare for the program. As a tight schedule repeats, we get physically tired sometimes. But this fatigue is nothing compared with the blessing that we receive. Moreover, New Song Radio has power to fill our spiritual lack while it gives inspiration to listeners. When we listen to New Songs, our souls get purified soon enough, and the articles from the Elohist, written by the members who were moved by the Holy Spirit, give us pride as the children of God Elohim. The sincere letters from the listeners especially remove all our tiredness and worries.
One of the most impressive letters was about a member who had become distant from Zion for some reasons but came back to God after listening to New Song Radio. Many people said that they were encouraged to return to God, being moved by New Songs and other members' stories from the radio.
This miraculous thing is possible because, first of all, God is with us and blesses us, and second of all, the listeners willingly share their stories for other souls. A few days ago, one listener sent his experience from Saudi Arabia. We'd like to share his letter which reminded us of God's infinite love and the mighty power of the Passover.
I was sent to Saudi Arabia for my work. My life was in danger many times there. One day, I was going home, travelling on the desert road, after a day's work. Accidently, the driver lost control of our vehicle, and the car went round and round, losing its control. I closed my eyes and prayed to God to save us. A few seconds later, I opened my eyes and I was in shock. Our vehicle landed on a thick layer of sand, without hitting anywhere, and we were all safe.

After a few months, I almost have a big accident because a front tire went flat while driving at the speed of 130 km/h (80 mile/h), but I was safe. Another accident happened in last November, but I was protected again. It was all thanks to the power of the Passover. Through a couple of accidents, I witnessed that God protects me even in any kind of danger if I celebrate the Passover every year.
The above letter planted faith toward God in many listeners' hearts. Like this, the genuine writings from the listeners play the role of Gospels in this age, being used in saving many souls. We are only sorry that we cannot print all the gemlike writings.
We also have many letters sent by listeners who were moved, listening to others' stories.
New Song Radio has inspired me a lot. Every time I listen, Father and Mother speak to me! All New Songs are equally beautiful. Whenever I listen to New Song, it reminds me of who I am and where I belong.
Reading these comments, we become more thankful for the job given to us. Finding the lost heavenly family, delivering the love of Father and Mother to brothers and sisters, and planting the hope for heaven—these are the very reasons and the motive power of what we do every week. We always look back on ourselves in order to focus on such purpose. It's because New Song Radio is not the result of our efforts but a part of God's grand work of salvation these days.
Two thousand years ago, Apostle Paul travelled around many cities and countries to preach the gospel, and we believe that the work we do is the same with his. We are preaching God's teaching about love and salvation even to the opposite side of the earth in an instant moment through a live show. We are happy and grateful that we are able to play songs of life to countless people, travelling across the world through radio waves.
Music is the international language, and it goes beyond barriers of countries and languages. When society is heartless like these days with many problems such as global economic crisis that seems to have no end, accidents and crimes that happen every day, and selfishness that fills the air is the time when the power of music is more desperately needed. We think that God has granted us this time and condition for New Song Radio to shine the warm light to the global village with the songs of life, and to make a better world.
Our dream is to reveal the love and glory of God Elohim to Samaria and to the ends of the earth by letting all the people of the world listen to the songs of life every day through New Song Radio. We eagerly hope that more people come to listen to New Songs, regain hope, and obtain life of their souls. We will accomplish God-given mission always with humility and serving mind, not forgetting the first mindset.
A bunch of news that will tinge the world with realizations and emotion must have flown to New Song Radio during the previous week, right? At 10 p.m., when the On Air light is turned on, pressing down our excited heart beats, we volume up New Songs and hold on to the mike.
"God bless you! New Song Radio listeners, welcome!"