Metamorphosis, the Beginning of a New Life
2122 Views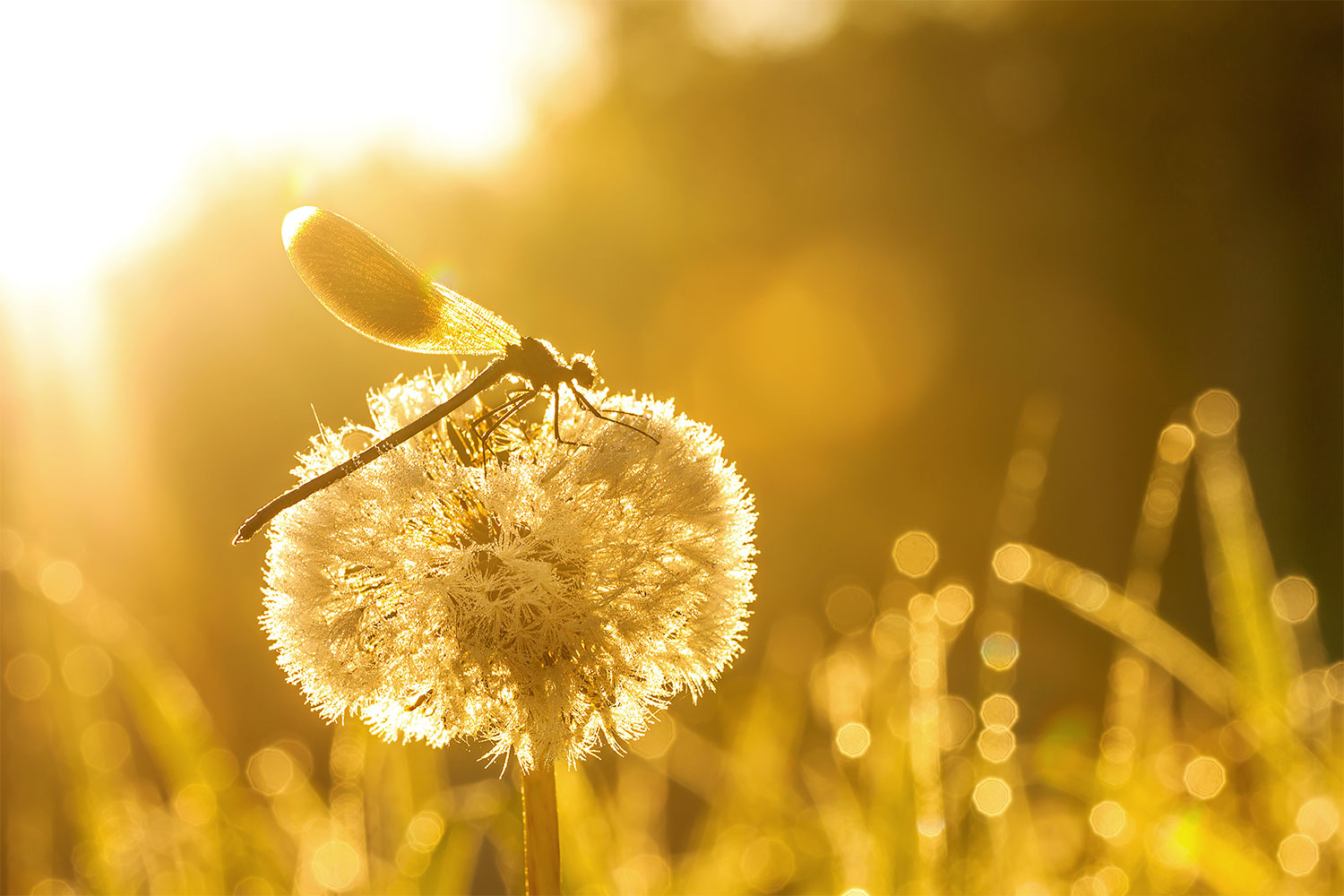 "Now you are merely underwater nymphs. When you become adults, you will have beautiful transparent wings so you can fly freely in the sky. With the wings you can freely fly, traveling from flower to flower."

The frog in the story tells the nymphs about the beautiful world that he saw while traveling. However, the nymphs don't believe what the frog said about the outer world, because they have only lived in the pond ever since they were born.

Then one day, one of the nymphs undergoes a transformation. The dragonfly nymph climbs up a plant stem out of the water and splits its skin. Just like the frog said, it has been transformed into a dragonfly that can fly in the sky. The dragonfly tried to go back into the pond where he used to live to let the other nymphs know about this, but he could no longer go back inside the water. From "Look Upon the Spiritual World" in God's Called Ones
Insects grow, taking off their skin
Insects spread all over the earth and have various species, taking up three quarters of the animal world. They have their hard outer skins to function as their bones, unlike vertebrates which have bones. Their outer skin like armor protects their bodies from physical impact.
Insects are small but have large surface, compared with their volume. Fleas can jump dozens of times higher than their own height, and ants can carry objects dozens of times heavier than their own weight, because their muscular strength per unit area are stronger, compared with other big animals. Having a large surface can be a flaw—losing moisture more quickly. However, their water-proof skin prevents water from evaporating.
Mammals like humans have soft skin which grows gradually as the body grows. On the contrary, insects generally hatch from eggs, become larvae, and grow, taking off their skin. Since they cannot grow after growing to a certain size due to their hard skin, they need molting which is to change into a bigger skin. It is basically taking off the old skin and getting a new skin that fits the body.
Depending on the species, insects molt from four times to 27 times. Molting is a difficult process that requires a large amount of nutrient, and it is dangerous because their soft and weak bodies are exposed until the newly made skin becomes hard.
They either change at once or little by little
Concerning other animals, there are no big differences in form except for the size between young ones and adults. However, insects become imagoes through a tremendous transformation in figure that it is impossible to recognize them when grown from when they were larvae. Like dragonfly nymphs in the fable, insects grow through successive molting when they are nymphs, and when they get to a certain size, they go through a special molting to become imagoes. This molting is called metamorphosis.

Let's take a look at silkworms. These worms crawl around, nibbling on mulberry leaves, They grow little by little, molting several times. When their tender worms grow to a certain point, they spew out thread, which they use to make cocoons and hide in them. Staying in cocoons, they turn into hard pupae that hardly move, and so they look dead. Like this, worms go through pupal stage and change into a completely different-looking imagoes. This is called the complete metamorphosis.
From the outside, it looks as if no changes are being made to the pupae. Insects that go through complete metamorphosis look completely different when they become imagoes from when they were larvae, just like worms and butterflies; and during the pupal stage, the organs consisting of the body of the larva decompose and then reconstruct. This is an enormous change that can be compared to the head and the tail switching.
On the other hand, there are also insects that become imagoes without going through pupal stage. This is called the incomplete metamorphosis. The insects that go through the complete metamorphosis experience one big change through the pupal stage, but the insects that go through the incomplete metamorphosis become imagoes little by little by molting several times. Compared with the insects that go through the complete metamorphosis, the insects that go through the incomplete metamorphosis look more similar when they are imagoes and when they are nymphs; they look closer and closer to their images of the imagoes every time they molt. A representative insect that undergoes the incomplete metamorphosis is the dragonfly. A dragonfly becomes more and more like the image of its imago through several times of difficult molting, and it eventually comes out of the water and gets wings through the last molting.
Painful and dangerous process of molting
Not all pupae have a chance to become an imago that has wings. Parasitic bees prefer plump and chubby butterfly larvae as a host for their soon-to-be-born young. Parasitic bees wait for a chance, insert their ovipositors in butterfly larvae or pupae that have just been made, and lay tens of eggs in there. Parasitic bee larvae become imagoes by feeding on the butterfly pupae's skin, and come out to the world, splitting the pupae. Sadly, those pupae face death right before starting a new life. There are quite many larvae or pupae that go back to nature in the process of transformation, not becoming a butterfly.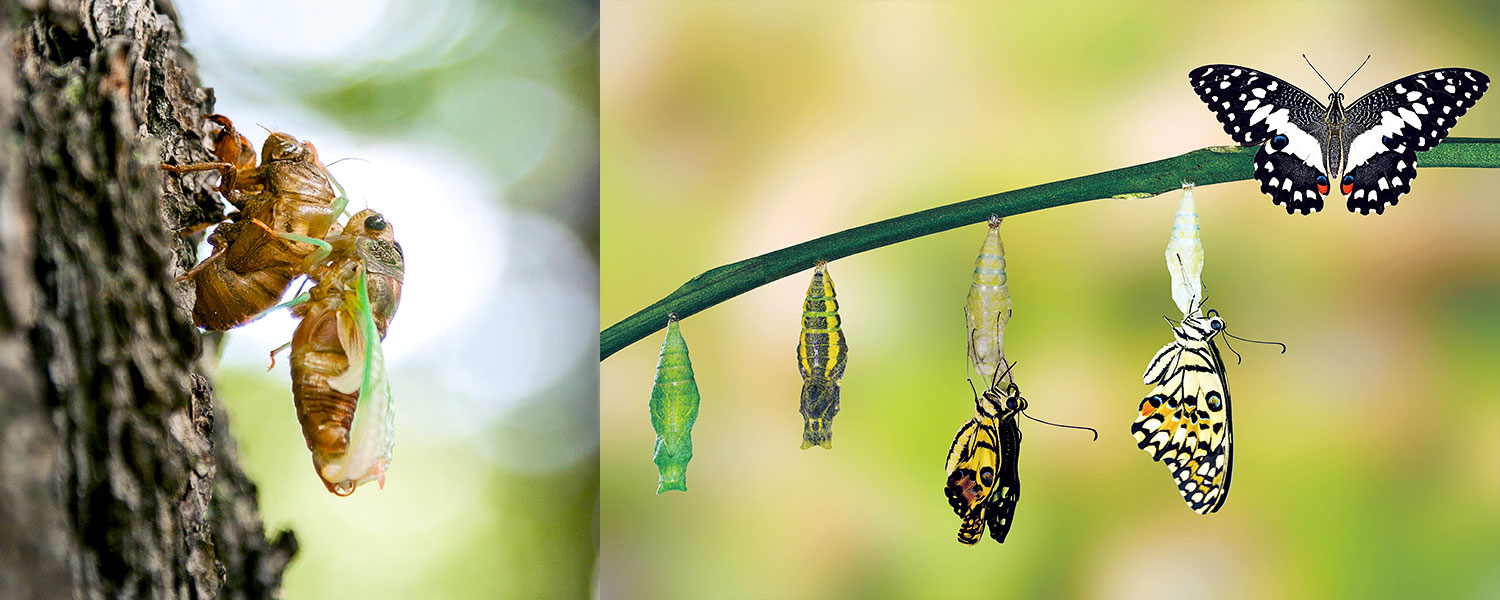 We can easily see a pupa or a skin left behind on a branch or the grass by a larva, but it is hard to spot the moment a pupa takes off its last skin after finishing a long life of a larva. Since they have to take a great risk, metamorphosis starts late at night when everyone is asleep. It is painful to watch an insect struggling for a long time to come out.
Metamorphosis is a painful and difficult process that can be compared to lungs being torn. When an imago has just come out of its last cumbersome skin, it has an overall dull color, its wings are wet, and its eyes seem to be out of focus. It takes some more time for the wings to dry and become strong. Their bodies are soft and weak right after metamorphosis, which exposes them to danger from its enemies. It is a dangerous moment where they could die if found by a natural enemy, but if they can endure a little more, they can soar up with beautiful wings by the time it dawns.
Worms eat constantly while crawling in the ground or on a tree. No matter how close you look at a larva, there is nothing in it that reminds us of a butterfly. Ugly cicada larvae wander around the underground for years. Dragonfly larvae called nymphs look completely like aquatic creatures. However, if they overcome hardships and difficulties, the worms that used to crawl on the trees can turn into beautiful butterflies; gross cicada larvae turn into cicadas that sing toward the blue sky; and nymphs that used to breathe through gills change into dragonflies with clear silver wings. For insects, metamorphosis is an essential process to sustain life, and it is an important gateway that becomes a starting point of a new life. The great changes of insects are truly amazing and mysterious.
Listen, I tell you a mystery: We will not all sleep, but we will all be changed—in a flash, in the twinkling of an eye, at the last trumpet. For the trumpet will sound, the dead will be raised imperishable, and we will be changed.1 Co 15:51–52