Major Awards Received
Governments and agencies of many countries
awarded the Church more than 2,600 times
Read more
Queen's Award for Voluntary Service
Recognized with the Member of the Most Excellent Order of the British Empire [MBE]
U.S. President's Volunteer Service Award
Gold Award (Best honor for a group, 16 times)
Lifetime Achievement Award (Best honor for an individual)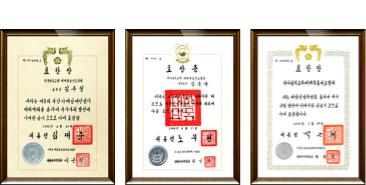 Presidential Awards from Three Korean Governments
Presidential Group Citation, Medal of Merit, Presidential Citation
Come and watch video sermons on various subjects.
The Church of God provides sermons in more than 50 languages.
Read more
New Song
The New Song is the praise to God Elohim who is the Creator and our Savior, and it is a soulful song of the saints who have received a new life in God and have been inspired by the Holy Spirit.
WATV New Song
Volunteer Services
We put into practice sharing and serving
beyond border, race, culture, and language

We work together to achieve the Sustainable Development Goals
[SDGs] for the peace and happiness of mankind.